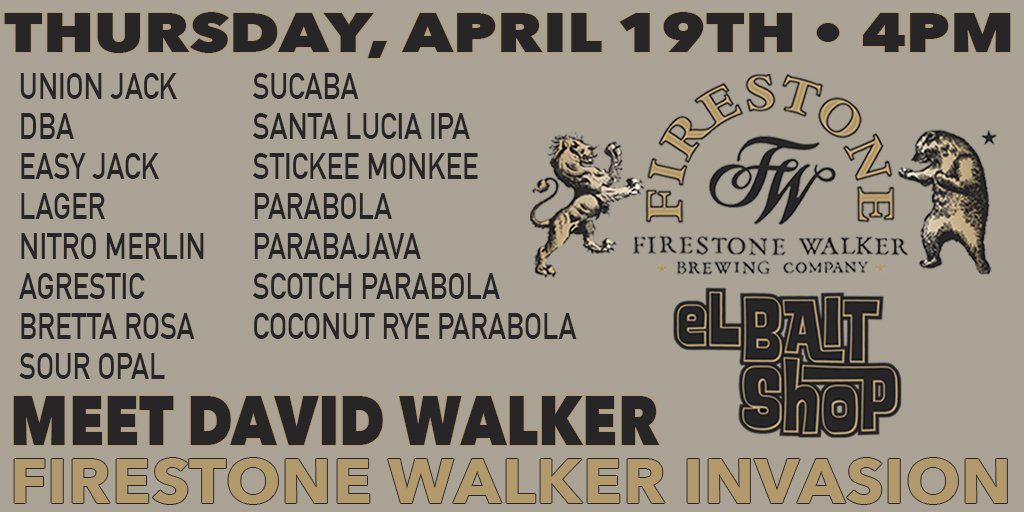 David Walker, part founder of California's famous Firestone Walker Brewery will be in Des Moines Thursday, April 19th at two locations. First, there's a tap takeover scheduled for 4:00 pm in downtown Des Moines at el Bait Shop. There, Mr. Walker is bringing a hefty list of kegs and Iowan's can get their first taste of a few new FW beers. Parabola just released into this market last week in limited quantities and perhaps some can get a first taste if they missed out on bottles.
Se to tap is
Parabajava
, Parabola infused with coffee flavors making its first appearance in Iowa.
Scotch aged Parabola
is a new variant unveiled in November of 2017 and considered an "acquired taste."
Coconut Rye Parabola
is newly created in February of 2018 and thus far the reviews have it at 4.51 bottles caps.
In addition to the Parabola and variants, Iowans can get a pour of their oak aged sour Wild Ales like
Agrestic
,
Bretta Rose
and
Sour Opal
. Also from their famous barrel aging program is Belgian Quad
Stickee Monkee
and Barley Wine
Sucaba
.
If you can't make el Bait Shop, don't fret, Beerstyles in West Des Moines will also host Firestone Walker and include a food pairing. Their
tap takeover event
is scheduled for Wednesday, April 18th at 3:00 pm. The food pairing is scheduled for Thursday and is $40 for four beers and food. Their tap list doesn't include the Coconut Rye but does have
BA Velvet Merkin
and Firestone Walker
Anniversary XXI
.
Finally, David Walker will make his way out to Global Brew in West Des Moines for another Thursday night meet and great. Global Brew is scheduled to host Mr. Walker at 7:00 PM and
their tap list
does include the Scotch Parabola and Parabola but not the Coconut Rye.
This is exciting news if you're a FW fan boy like me. They've been in the Iowa market for almost a year and this is the kind of event you hope to see here. As fast as the Parabola disappeared off shelves last Friday, expect the three above bars to be busy. See you there!