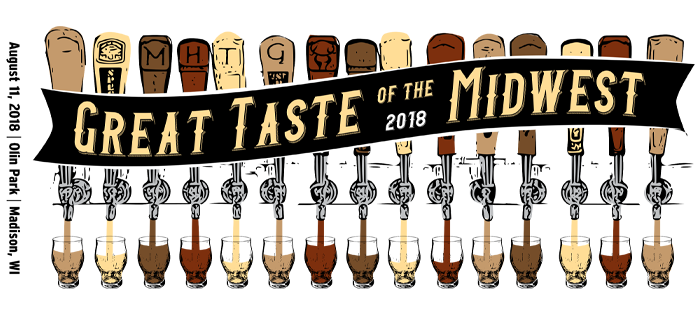 The 2018 Great Taste of the Midwest is over and some recaps and reviews are now showing up online. The Iowa beer list of
who and what
was posted here pre-event. The Great Taste hosted breweries from Wisconsin, Michigan, Illinois, South Dakota, Kansas, Nebraska, Indiana, Minnesota, Missouri and Iowa but it was Iowa beer that has the bloggers buzzing.
The Wisconsin State Journal's Chris Drosner spent his time
hitting some
of the bigger names at the fest like Mikerphone and Hailstorm. He also rated some rookies which included Pulpit Rock and Big Grove. Of Pulpit Rock, Drosner wrote, "Pulpit Rock (Decorah), a noted slinger of excellent hazy IPAs, had a big hit with Church Salad, a sour blonde ale replicating the fruity/nutty delight of marshmallow salad."
After visiting Big Grove, he added "Big Grove (Solon) got onto my radar the week before the Taste when I tried a great IPA from a crowler at a bottle share, and Taste-goers were buzzing about beers up and down its list."
And finally, while not a rookie to the event, Drosner got a chance to re-visit Backpocket. He remarked, "Backpocket (Coralville) this year issued me a lesson in writing off a brewery too soon. It failed to impress me a few years ago but appears to have turned it around recently, particularly with its 6th Anniversary, a barrel-aged imperial stout with vanilla and coconut." Hey Chris, this blog loves that Anniversary too.
While Drosner covers beer for the home crowd in Wisconsin, Porchdrinking.com covers for the Chicago area. In Mike Zoller's recap, he went out of his way to proclaim
Iowa Beer Impressed
. He too writes the 6th Anniversary beer "blew (him) away" and it was another BP beer that he loved. Writing about Pucker Up Right Meow, Zoller says,
"some of the best beer I had all festival was from two breweries in Iowa. Backpocket Brewing from Coralville and Pulpit Rock Brewing Co. from Decorah impressed me a ton with there beers. Backpocket somehow got situated in-between Chicago's DryHop and Corridor tables so for me while visiting the two Windy City booths I had to stop at the table that came between the two. First up was Pucker Up Right Meow, a dry-hopped sour that was full of flavor and just the right amount of tartness that made it easy to drink but still held true to the sour style."
And regarding Pulpit Rock, he adds,
"as for Pulpit Rock, they had some of the best hazy beers I had all day. The balance between fruity notes and the bitterness from the hops isn't easy as far too many beers turn into juice bombs. When you have the bitterness still present, it's great to remember that you're still drinking a beer and Pulpit Rock nailed it on Saturday."
If that's not enough love, Isthmus.com has some awards based on their visit. Backpocket gets a nod as a best of the best for experimental brew.
Robin Shephard writes
,
"Key Lime gose from Backpocket Brewing of Coralville, Iowa Part sour and part sweet, this gose is made with honey graham crackers, coriander, key lime juice, vanilla beans and sea salt. Definitely something drinkers don't find every day."
Shephard also likes Pulpit Rock. Here's what gets a mention under "unusual and fun,"
"Church Salad from Pulpit Rock Brewing Company of Decorah, Iowa A Berliner weisse made with coconut, walnuts, marshmallows and pineapple juice. This seemed like a lot going on."
It looks like the rest of the Midwest is learning what we here in Iowa already know: Iowa has good beer. Let's hope this opens doors for the Iowa breweries that impressed at the fest and for others to join the 2019 Great Taste next August.